Video Poker Trainer
Game:
Payout:
Difficulty:
Score:
| Hand | 1 coin | 2 coins | 3 coins | 4 coins | 5 coins |
| --- | --- | --- | --- | --- | --- |
HOLD

HOLD

HOLD

HOLD

HOLD

Credits:

Ans:
Forum Post

Registered member can ask our forum members for help on strategy for particular hands.
Start playing by clicking Deal button.
Click some cards to hold them, then press Draw.
Registered member can ask our forum members for help on strategy. Once you've got some cards deal, click ? button again to open forum post form.
Instructions
Choose Game, Payout table, and Difficulty.
Press the Deal button to start the game.
Click on the cards you want to hold.
Click the Draw button, then compare your actions to the optimal strategy.
Your Score represents the number of consecutive correct choices made. Try and make it on our high score list!
Video Poker Training Articles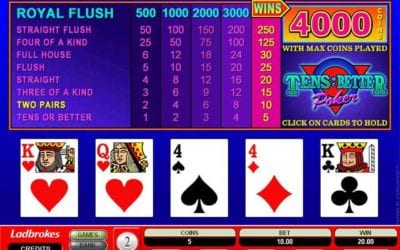 Video Poker is one of the most common games you will find at online casinos, but it is not always easy to know which video poker game has the better payouts, or which casinos offer the best games. We highly recommend playing video poker at either Ladbrokes Casino (US...
Get a bunch of free chips and play video poker for free with the no deposit bonus codes at www.usacasinocodes.com.
Frequently Asked Questions
Why should I use this video poker trainer?
Our trainer is setup exactly like a video poker machine you will find at B&M or online casinos. However, instead of playing for money, you play to learn. Whenever you make a mistake, it won't cost you anything, but we'll let you know what the best move was so you can correct it. The more you play, the better you will become. Then when you sit down to play for real money, you'll be a video poker shark!
Can I use this trainer on my smart phone?
Yes, our trainer works on smart phones, tablets and laptops. We automatically detect the device you are using and change the layout accordingly. Our trainer has been optimized to work in both portrait and landscape.
Which of the major online video poker games should I play to get the best payouts?
The Best Video Poker Games tab in the top nav is sorted in order of payout percentages for the top online video poker games. Joker Poker is currently the best option at 100.002% for max coins. 2 Ways Royal (99.7977%) and Aces & Eights (99.7819%) are other excellent options for US players. You can use our video poker trainer tool for Aces & Eights to master that version of video poker.
The easiest and most common version is Jacks or Better, and you can earn a 99.5439% return at most online casinos. We recommend players start with Jacks or Better.
What good is a non-cashable bonus?
While true that a non-cashable bonus is clearly less appealing than a cashable bonus, non-cashable bonuses are still great in that they give you free money to play with in the casino once you have lost your initial deposit amount. It essentially functions like an interest-free loan from the casino that you have to repay when you win and cash out. It's different from a loan from the bank though, since if you also lose that bonus amount, you're in no way obligated to pay them back. So, put another way, the casino is staking you at no cost, and they're happy to take the losses should you not manage to win back your money.
What are the games with the best payout tables at each online casino? In other words, at a particular casino, what video poker game should I play to maximize my edge?
Check out our casino reviews for this info. They show the best games at the top of each casino page. You can also consult our comprehensive Video Poker Online table which can be sorted by clicking the column headings (Casino, Game, Payout %) to get a complete listing. Generally games like Joker Poker, 2 Ways Royal and Aces & Eights (works with our video poker trainer) have among the best return percentages at most casinos.
I want to play a particular video poker game. Which casino offers the best payout table for my favorite game?
Our video poker game pages like Double Bonus Poker show a comprehensive list of casinos that offer the game, listed in order from best payout to worst.
What other free gaming trainers can you recommend?
Like video poker, blackjack is a card game where the decisions made by the player are crucial. The blackjack trainer at Blackjack-Trainer.net is very similar to our video poker tool and it is just the thing people need in order to learn more about blackjack. If you'd like to learn more about Texas Holdem or other multi-player poker games, we recommend checking out FlopTurnRiver.com and their for free strategies and poker discussions.
For a more in depth look at specific video poker strategies, visit VideoPokerStrategy.org.
Any questions, comments, or concerns? Visit our Contact Us page. Thank you for visiting Video Poker Trainer!